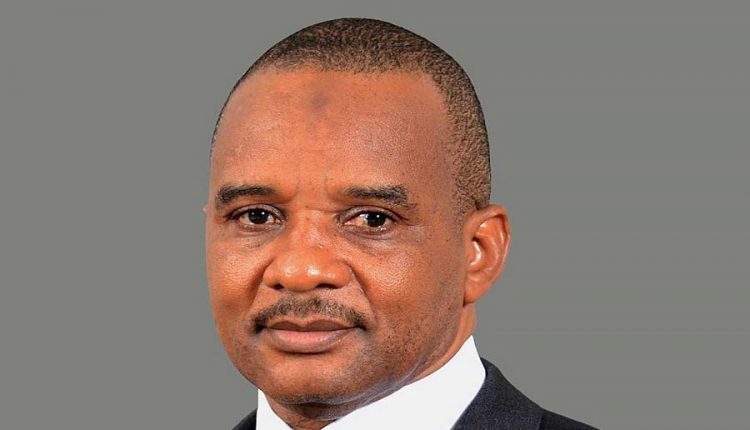 Jamoh's Quest for A New Order
BY EGUONO ODJEGBA 
When Dr. Bashir Yusuf Jamoh took up the rein of leadership of the Nigerian Maritime Administration and Safety Agency (NIMASA) on March 10, 2020, he said, "Since government is a continuum, we shall hit the ground running immediately. We shall study your handover notes diligently to ensure continuity of leadership for the sector. We shall also listen and engage more deeply and more frequently with all our stakeholders both internal and external and we will find time to address issues and make projections soon."
On his 100 days in office, Jamoh unveiled what he called 3S-Management Strategy he and his team has put together to take the agency to the next level. The 3S Agenda which are Safety, Security and Shipping Development, according to him will be the central pillar every capacity building strategy and initiative must key into as the engine room for the actualization of the agency's core mandate.
Jamoh said there will be no distraction, as all efforts will be focused on these cardinal tripod agenda, not only to drive a new productive order, but essentially to also propel the fundamental global maritime grid map, such as the International Maritime Organisation (IMO) guidelines, protocols and conventions, that encapsulates the global growth super structure, and guarantee Nigeria's new outlook in meeting both the national, continental and global aspirations.
To match words for action, Jamoh announced the arrest of 27 suspected pirates, which NIMASA under its new outlook, moved prosecute under the new Suppression of Piracy and Other Maritime Offences (SPOMO) Act 2019, as a test case of the anti-piracy judicial system signed into law in June last year by President Muhammadu Buhari
A technocrat of no mean weight with incisive and broad industry outlook, his leadership and political sagacity to deliver on his critical fundamentals came to the fore on August 12, 2020, when the court successfully convicted three of the 27 pirates NIMASA is currently prosecuting in various law courts.
Even though the convicted pirates were merely fined by the court, NIMASA and the industry is happy that the instrument for legal deterrence has been put in place and successfully tried; as the agency, industry stakeholders, the generality of Nigerians and the global maritime community look forward to stiffer penalty with far reaching deterrence. 
It will be recall that while announcing the take off of  SPOMO in June 2020, Jamoh  said it is a new legal system that will achieve force as time goes on, especially since pirates have had unchallenged and unimpeded field day since 2006. He said, "This is definitely a test case for us, given that no pirate has been apprehended or arrested in the country since 2006.
"It is even more so given that we have a brand new Act and this is the first time suspects are being tried under the new legislation in the history of the country and what we make out of it would convince the global maritime community that we are serious with the anti-piracy campaign. It is a make or mar trial and we will put all efforts into it."
It would be further recalled that on his 100 days in office, Jamoh pledged the commitment of the new management towards ensuring shipping development, noting that special attention would be given to building indigenous capacities and the empowerment of Nigerian ship owners through fiscal and monetary incentives to enhance their global competitiveness.
An uncommon goal getter,  it was an elated Jamoh that also on August announced the approval of the Federal Government for the disbursement of an estimated $150billion Cabotage Vessel Financing Fund (CVFF); adding that the final details are been worked out.
Speaking on his administration's key agenda to put Nigeria on global maritime map, including effort to return to IMO White List, Jamoh said:
 "There are two performances we are giving ourselves. One, Nigeria is going to be on the White List of the IMO. This is part of my vision and target and it will not reach four years. Before the end of this year, I will like to see Nigeria back in the White List. Number two is IMO Security Seat; it is coming up November next year. We will not be going to sleep until these two objectives have been achieved."-Dr. Bashir Jamoh, DG NIMASA, June 19, 2020.
Nigeria's quest for an elective position at the International Maritime Organisation (IMO), every election year has become a ritual worth noting, such that few, perhaps, may be wondering why the tenacity or even the obsession to be listed in IMO or win IMO Security Seat, despite repeat defeat and huge financial losses at each event.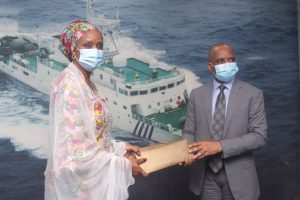 Jamoh with NPA MD, Ms. Usman
Put differently, what does Nigeria truly seek? Those whose business it is to know say the quest is logical because IMO is maritime global business politics, any maritime nation worth its name should aspire to be, not just as bench warmer but to be abreast of very important issues relating to global maritime businesses, and to partake in decision making, besides having a firsthand information of the political, economic and diplomatic happenstances, and the internal dynamics of the IMO.
At one time or the other Nigeria have been to the Council Seat, have been permanent representative, in addition to producing a number of Nigerians as members at various top organs of the global maritime body. Since membership of these various organs consist of particular gains and expectations, perhaps we should be able to find out the general or specific  values our membership and indeed, elective positions held over time has offered our maritime industry and the entire economic value chain.
Has it provided us with the necessary outlook to key into IMO critical conventions and protocols, through ratifications that have given rise to proactive implementation and due diligence in our operations? Has our membership provided us with the essential fillip to aggregate the optimal benefits derivable from our marine potentials, and converting same to a scale of comparative economic power?
What is our optimal local content holding in coastal shipping? What percentage of global seafaring trade does Nigeria actually control? Has our member of IMO in any category assisted us to join the global effort to explore the goldmine contained in our oceans and seas, consistent with the trending philosophy of blue economy?
 These are the necessary fundamentals that drive nation's maritime economy. Or is membership of IMO intended to aggregate international shipping interests to the exclusion of local maritime trade? If the benefits are not more economics than any other consideration, then the whole efforts must be reviewed and steered in the right direction. It must not amount to sheer political grandstanding driven by vain territorial glorification.
Since the IMO Council Seat is not an arena to showcase unproductive curriculum vitae and sloganism; technically, it is more an economic and diplomatic space that engages in the undiluted business of maritime trade security, safety and protection, which also dovetails into capacity development and explorations.
These elements looks at the rules of engagement in terms of conventions and treaties, regulations and monitoring, compliance and capacity; and to some extent lobby, technical exchange and assistance, albeit with traces of political coercion, call it, global pressure or control if you like. 
Overall, the IMO Council Seat exists to aggregate the benefits and advancement of world maritime trade, capacity building and administration through active assembly of experts. These goals are in turn driven by member nations' mobilization tools for achieving the individual and collective gains.
But let us fast forward to the upcoming 2021 IMO election. The struggle by maritime nations to remain on the White List is not entirely a new phenomenon, what perhaps may appear new and interesting, is the convergence of interests of member nations that have been on the White List for so long, without any plan to take the back seat or proceed on holiday.
Instructively, to be on the White List however is precedent to membership of the IMO Council Seat 'Category C', which is elitist both in content and outlook, and strictly by qualification taking into account a warehouse of all the essential operational maritime apparatus, security fundamentals, safe shipping operability,  economic infrastructures and superstructures  inclusive of the minimum fulfillment of all IMO requirements, and in terms of regular audit and general compliance with international merchant shipping acts. 
Interestingly, we have on the White List almost all members of the G8: including USA, Germany, France, Britain, China, Japan; and the other economic tigers, Argentina, Australia, Singapore, Morocco, South Africa etc. Of course Nigeria was once a member of the maritime elitist club up until she lost out.
As an important organ of the IMO in terms of policy decision making and political diplomacy, Nigeria's struggle to return to the White List appears driven by leadership perception, taking into account the fact that after two unsuccessful consecutive bid to win the IMO Council Seat between 2009 1nd 2011, the then Nigerian Maritime Administration and Safety Agency (NIMASA) Director General, Mr. Patrick Akpobolokemi decided to put on hold further bid, and to build the required capacities to resume future bid.
Jamoh's recent declaration to get Nigeria back to the IMO White List and Council Seat cannot be seen as a fresh bid, except that this time around, the preparation approach will be hinged on vital tools, made more pragmatic, industry focused; results orientated, essential and less blurry or combative.  In expressing the desire to bid for the White List, Jamoh has done his home work, perused fault lines, and is no doubt busy plotting the graph and closing the gaps. 
In the light of the above, part of the current blueprint is to reorganize the process to reduce money consuming diplomatic shuttles, which includes hosting of diplomats, travels, campaigns and seminars. Those who are close to the new DG NIMASA say the 2021 bid will most likely fall short of  the whopping N300million spent in the last bid, by as much as 30percent; with wider margin of win.
Pundits posit that IMO elections are defined by critical tools of its conventions and protocols, ratifications and compliance. By extension, these consist of the global body's queries and reservations arising from monitoring. Unless these queries and audits known as IMO Member State Audit Scheme, IMSAS, are fully resolved, experts argue that they constitute immovable barriers to IMO vote order or support, and cannot be wished away with vote buy, which though is strange to IMO democratic doctrine, but which nevertheless, NIMASA past leadership relied heavily upon.
Whereas, the uninformed maybe persuaded to conclude rather hastily perhaps, that the real reason Nigeria, nay, NIMASA, have declared its intention to again seek readmission into the Council is driven by same narrow considerations, there indications that the current aspiration  actually espouse genuine, patriotic and economic zeal.
While speaking with maritime journalists recently, to mark his first 100 days in office, Jamoh  said NIMASA is upbeat is ensuring that Nigeria satisfactorily meets all IMO protocols and critical guidelines essential to command sustained maritime security and safe shipping in the nation's territorial waters and the Gulf of Guinea, GOG.
He said based on the enabling fulfillment of the regulations and guidelines of the global maritime regulatory body, there is no reason to fail in returning Nigeria to the IMO White List as well as the Security Council Seat, noting that Nigeria is a critical destination for global shipping and maritime trade.
According to him, "There are two performances we are giving ourselves. One, Nigeria is going to be on the White List of the IMO. This is part of my vision and target and it will not reach four years. Before the end of this year, I will like to see Nigeria back in the White List.
"Number two is IMO Security Seat; it is coming up November next year. We will not be going to sleep until these two objectives have been achieved."
Those whose business it is to know opine that the only institutional instrument required  by IMO member states to seek admission into the White List Category rests on the existence of member states possession of a functional nautical or maritime academy for the training of seafarers, cum cadet navy merchants and other category of sailors.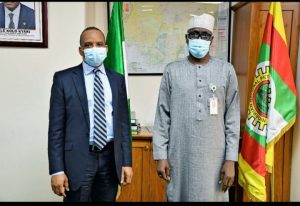 Jamoh with the NNPC GMD, Engr. Kyari
 In the case of Nigeria, the Maritime Academy of Nigeria Oron is on record to have radically reorganized the institution in standing with IMO standards, as efforts is in progress to conclude other parameters of measurements that will put MAN Oron in the top ten global maritime academies chart.
The Rector MAN, Commodore Duja Effedua have been unsparing in efforts to rebuild the academy and align it on the path of professionalism, to achieve its objectives.  In the past three years, management has focused on the issue of qualified lecturers, improved academic curriculum in consonance with the National Board for Technical Education (NBTE) and Standard of Training Certification and Watch-keeping for Seafarers (STCW).
It will be recalled that for the fourth time running, Nigeria has failed to clinch the IMO Category 'C' Seat, 2009 and 2011, and 2017 and 2019. Category C comprises countries with special interest in maritime transportation or navigation, and whose membership of the elite council gives them power to preside over global maritime issues.
At the last election held during the 31st Session of the IMO, Nigeria lost to Kenya by one vote in the Category C elections. Kenya got 111 votes to come 20th; while Nigeria got 110 votes to make 21st. Nigeria was however ahead of Saudi Arabia with 106 votes, while Poland and Liberia got 101and 100 votes, respectively.
As such, West Africa lost its only seat in the council, as Egypt, Morocco, South Africa, and Kenya retained their seats in the 20-member Category C of the IMO. Nigeria got elected into the council last in 2009, during the administration of Dr. Ade Dosunmu, being the second shot at the Council after its initial election in 2000.
This development unquestionably dampened industry stakeholders' morale that Nigeria lost the pivotal role in contributing to key decisions affecting the global maritime space despite our maritime potential.
Commenting on this development, former President, Ship Owners Association of Nigeria (SOAN), Engr. Greg Ogbeifun, said to do better in next elections, Nigeria should look inward and develop its capacity and expand its platforms.
Ogbeifun, who is also the Chairman of Starzs Investments Company Limited, said: "Our maritime agencies responsible for this have stepped up their efforts,  what is remaining is for us to now look inward and see how we can develop our own resources.
"For example, we have been talking about training cadets. As long as we continue going around the world and beg people to put our cadets on their ships, we are telling the world that we don't have any serious platform. First, we should be able to develop our own maritime platform that will make us less dependent on the foreign countries, because anytime anybody comes to your house to start begging for something, you will feel that the person is weak and deficient. So, if you are in a position to vote that person into any serious position, the first thing that strike your mind is that, is it not this person that came asking me for internship space? Is it not this person that does have any single ship to carry his import or export?
"So, right now, let's look inwards and put those things that will make us independent in place. So if different countries are seeing Nigerian ships flying Nigerian flags out there, they will know that we are really a global player and take us serious. Right now, we don't have any presence. We should take it to the next step and actualize some of these initiatives within our shore and stop depending on foreigners. As long as you keep flying to Malaysia, Singapore and London, we will keep having these issues. Let us do it in such a way that they are coming to us."
Collaborating, the President, Association of Nigerian Licensed Customs Agents (ANLCA), Tony Iju, said the nation should review its international relationship and then look inward, examine the reasons behind our losses, and make necessary amendments.
 "What to do is look inward to understand on why we are losing the elections. First and foremost, we have to put our house in order when it comes to maritime industry. We have to streamline our relationship with international best standards amongst other nations. We need to improve on our trade relationship with all neighboring countries." he said.
Commenting, President of the Nigerian Institute of Shipping, (NIS), Captain Tony Onogharigho noted that vessels as engine of shipping are rated a priority by IMO, further noting that the absence of Nigerian ship flag will continue to constitute a major drawback in relation winning IMO election.
Onoharigho who doubles as Liberian Deputy Ship Registrar said, "Nigeria as you know very well is not even on the Black List of IMO rating, we need to start to build up from the basics. Nigeria does not have a single ship they can call their own. The only way we can do that is to have an open ship registry, ship is a measuring index at IMO rating. If there is an open registry somebody can put a vessel in the UK, Holand, US without necessarily coming to NIMASA.
Jamoh and MWUN PG Comrade Adeyanju
"How can Nigeria go and contest IMO Category 'C' election without a single ship, IMO election is not Nigerian election. So I think what really happened at the election is that we are not known in the IMO cycle as capacity efficient, we could be big name in Africa, but we haven't the wherewithal yet to be at the command tower in IMO. It is okay they concede to allow Nigeria show her presence at every democratic exercise, but they will not allow sentiment affect rating. The Category C Seat is for serious business and serious actors, not for pretenders."
According to Engr. Austin Ume Zurike, marine resource technocrat and President of Alumni Association of Maritime Academy of Nigeria, AMANO, "I think that as soon as the maritime administration is well structured to ensure that Nigerian seafarers are well catered for and institutional structures are in place, winning elections at the IMO will no longer be a problem.
"IMO rate work conditions of seafarers, Nigeria is signatory to the Maritime Labour Convention, MLC 2006. Our seafarers have no minimum wage that will guide ship operators as set by ILO. NIMASA has not done that even though it adopted the convention."
Also speaking, frontline customs broker and immediate past National President of the Association of Nigeria Licensed Customs Agents, ANLCA, Prince Olayiwola Shittu said, "Our failure hinges on absence of professionalism, absence of real business and professional approach to unlocking critical opportunities, lack of efficient maritime domain infrastructure, and lack of evaluation and inputs. Doing things the same way will produce same result." 
Also speaking about Nigeria's prospect in 2021 IMO Council election, Minister of State for Transportation, Gbemisola Saraki, who incidentally led the country's delegation last year, said it is important "Nigeria gets a seat on the maritime table".
For NIMASA, that was a marching order, even though her perspective to the loss was purely political. Apparently unhappy Saraki ruminating over what has come to be known as the most narrow loss said, "We are going to go back to the countries that voted to ask them what they did not think we have done well or why they did not vote for us."
She was also enthusiastically pleased about Nigeria's campaign delegation last November at 21st meeting of the Council biennial.  Category 'A' had 10 states with the largest interest in providing international shipping services including; China, Greece, Italy, Japan, Norway, Panama, Republic of Korea, Russian Federation, United Kingdom, United States.
Category 'B' had 10 states with the largest interest in international seaborne trade, they are; Argentina, Australia, Brazil, Canada, France, Germany, India, the Netherlands, Spain and the United Arab Emirates.
Category 'C' under which Nigeria contested includes 20 States not elected under (a) or (b) above, which have special interests in maritime transport or navigation and whose election to the Council will ensure the representation of all major geographic areas of the world. They are; Bahamas, Belgium, Chile, Cyprus, Denmark, Egypt, Indonesia, Jamaica, Kenya, Kuwait, Malaysia, Malta, Mexico, Morocco, Peru, the Philippines, Singapore, South Africa, Thailand, and Turkey.
The Council is the executive organ of IMO, and is responsible under the Assembly, for supervising the work of the Organization. Between sessions of the Assembly, the Council performs all the functions of the Assembly, except that of making recommendations to Governments on maritime safety and pollution prevention.
A source in NIMASA said queries raised by the IMO Member State Audit Scheme (IMSAS) about Nigeria's maritime have been significantly addressed and will be fully resolved before the 2021 Council elections.
IMSAS is the mandatory audit of all IMO member states which is aimed at determining the extent to which they give full and complete effect to their obligations and responsibilities contained in a number of IMO treaty instruments. The scheme covers safety of life at sea (SOLAS) 1974 and its 1988 Protocol; prevention of pollution from ships (MARPOL); standards of training, certification and watch-keeping for seafarers (STCW 1978); load lines (LL 66 and its 1988 Protocol); tonnage measurement of ships (Tonnage 1969); and regulations for preventing collisions at sea (COLREG 1972).
It is the duty of governments of member nations to implement and enforce international shipping legislations and regulations adopted by IMO.  This obligation is further strengthened when a member nation ratifies an IMO convention, which immediately becomes part of its domestic and national laws, and therefore, enforceable by them.
Some of the audit queries that were left uncorrected and which affected our chances in the 2017 and 2019 IMO Council elections include failure to comply with the criteria for selection, qualification and training of surveyors, in addition to alleged poor and partial flag state safety investigations.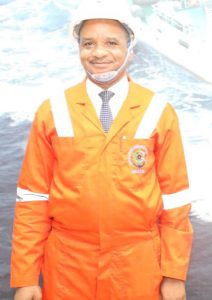 Jamoh first industry man to run NIMASA in awhile
While sources inform that above queries have since been resolved under IMO Corrective Action Plan, the present NIMASA administration has addressed related issues of maritime security and safety, efforts believed to provided added advantage for Nigeria's bid as the 2021 IMO Council election approaches.
The present NIMASA leadership is not also taking chances as efforts are in place to revitalize indigenous shipping development, tied to ongoing effort to re-jig the Cabotage Vessel Financing Fund (CVFF), in addition to actively drive other components of the industry value chain such as ship building and ship breaking.
It is expected that Jamoh will keep the beat on and consolidate on available evidences of facts which are the sole considerations during IMO elections. IMO democratic process is driven by evidence of facts, of actions and responsibility; with little regards for lobby, campaigns and promises.