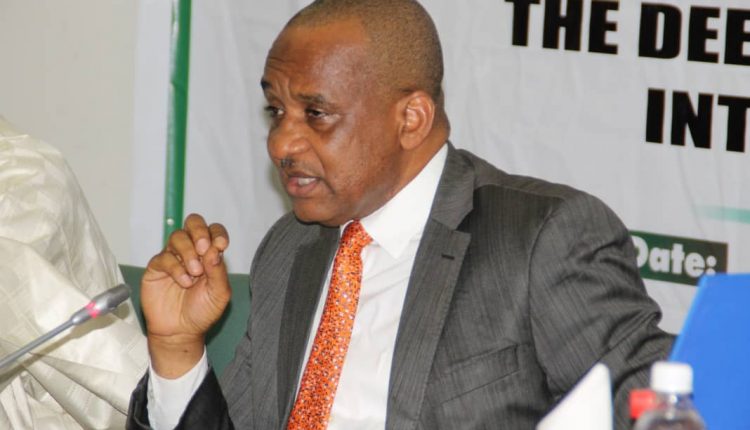 Rising Marine Accidents: Stakeholders Ask Jamoh To Resign
BY EGUONO ODJEGBA
Following the sad and avoidable sinking of one of the patrol vessels under the fleet of Nigerian Maritime Administration and Safety Agency (NIMASA)/ Global West Vessel Specialist Limited (GWSL), namely NIMASA-BARUGU at the Lagos-Trinity waterways on Sunday evening, stakeholders have called on the Director General NIMASA, Dr. Bashir Jamoh to either resigned honorably, or be sacked by President Muhammadu  Buhari.
The industry stakeholders said two successive and preventable accidents within the first quarter 2022 alone, is too close for comfort, and note that the DG NIMASA's resignation and or sack, will pave the way for the appointment of somebody who will have time to run the affairs of the agency, while Jamoh can focus on his political pursuit.
The industry players expressed shock and disappointment that while the tragic burning of a Floating Production Storage and Offloading (FPSO) Trinity Spirit has hardly settled down, NIMASA-BARUGU has been allowed o sink, purportedly due to lack of attention, absence of urgency and official negligence; in the light of evidence that those minding the dead vessel sent distress message to NIMASA for more than three weeks, before it eventually went under the water, on Sunday.
A concerned front-line maritime resource person, and former President, National Government Approved Freight Forwarders (NAGAFF), Dr. Eugene Nweke, said it is unacceptable to watch the industry engage in merry go around while those charged with the responsibility of piloting its affairs get carried away with own engagements; allegedly in addition to failure to assign critical operational responsibilities to qualified persons.
With the sinking of Barugu, the question of who heads the Agency Safety Department has been strident, yet NIMASA has failed to mention any name; amid worry that the position may have been filled by a less than qualified personnel.
While demanding the resignation of the DG NIMASA, Nweke said stakeholders should be patriotic and courageous to speak up for the well-being of the industry.
He said, "We must be willing to call a spade a spade and shame gross managerial negligence. The FPSO Trinity Spirit negligence has not yet been laid to rest, now MV Barugu sank under the very watchful eyes of a supposedly professional regulatory administrator.
"Other than collectively stand our ground to request our dear friend Bashir Jamoh to humbly resign his position and concentrate fully on his political aspiration, here we are, doing the usual oyibo language.
"A case of safety, distress and rescue  blatantly ignored by whoever officer that is in charge is an alarm, one cannot ignore. A responsible CEO is the one who take the blame for the carelessness or negligence of his staff."
Another stakeholder who gave his name simply as Austine said, "Oga is earned, if oga fails to do the things he was appointed to do, the right thing to do is to resign. NIMASA belong to Nigeria and is bigger than one person."
Also commenting, a maritime resource person, Capt. Enosuh Warredi said as member of the International Maritime Organization (IMO), it is obligatory on the part of Nigeria to respond to all marine distress calls irrespective of their legal or ownership status.
"We are supposed to respond by INTERNATIONAL LAW to a maritime distress call and a call for help."
He also faulted NIMASA claims that it is not responsible for regulation and guidance of foreign flagged FPSO on Nigerian waters, a position pushed by Engr. Olu Aladensi.
Although NIMASA denied that the ill fated vessel and similar others before it were not in its custody, official documents sighted by our reporter is at variance with its position.
The documents obtained by our reporter showed that GWSVL indeed communicated a number of its vessels in distress to NIMASA, while asking for help, but which were curiously not responded to; including NIMASA- BARUGU, which sank on Sunday.
The sinking vessel which was posted online had gone viral, and elicited reaction and condemnation from sundry quarters.
However, in a swift reaction, Edward Osagie, Assistant Director, Public Relations, NIMASA, parried stakeholders condemnation, saying  the distressed vessel was not in the custody of the agency.
He also lamented that issues of litigation had prevented the agency from taking over some of the vessels in the GWSVL fleet.
The statement released on Monday reads: "While this is an unfortunate development, it is important to bring to the attention of all that this vessel under reference here is one of Global West boats that were in service with the Agency years ago.
"This boat has the name NIMASA-Barugu right from the days of the contract. There are also other boats in this contractual category in Warri.
"Collectively, the boats and their management have remained a subject of litigation and under the custody of the Economic and Financial Crimes Commission (EFCC) for years.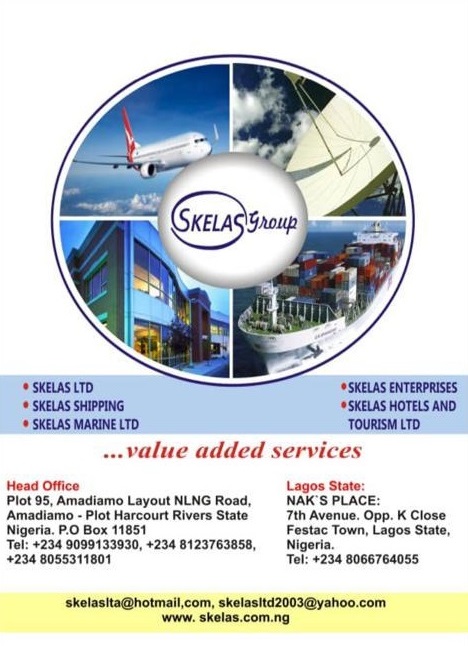 "For the avoidance of doubt, it is on record that NIMASA recently made concerted efforts towards reactivating a few of the serviceable boats in this fleet but was constrained by the legal encumbrances due to the nature of the case in court. As a law-abiding entity, we approached the matter under sound legal advisory.
"Finally, it must be stated that this vessel was not in our jetty and under our management at the time of the incident. The crew on board does not report to NIMASA but to Global West management, its owners.
"NIMASA remains committed to her statutory responsibility of administering safety and regulating the industry within the ambit of every lawful framework,"
When our reporter set out to feel the industry pulse, concerned stakeholders felt reasonably scandalized and aghast by the posture of NIMASA which purport to profile, segregate and discriminate between vessels within it's territory in terms of enjoyment of protection and help, as against IMO protocol.
Despite reported efforts by the management of NIMASA to wriggle out of the present ugly development, there are indications it remains inescapably caught in the middle.
Pinnacle Time can report authoritatively that GWSVL has been communicating with the agency, not just about Barugu. Prior to Barugu, there are official letters that called for the rescue of MV WAO Ethiope.
GWSVL said that NIMASA refused to extend any rescue effort. One of the letters written by the company to NIMASA, which was exclusively obtained by our reporter reads: "Sequel to our letter dated 06/11/21. Reference No. GWVSLDISTVESSLS06/11/21.
"Regarding the helpless state of the PPP vessels, I write to bring to your notice yet again that the situation is yet to be considered positively.
"Presently the above mentioned vessels need urgent action to rescue them before they sink.
"Our crew onboard have been pumping water from these vessels since January 14, 2022 and there is no improvement. As stated in our previous letter. it is beyond our capability now financially. If nothing is done urgently to these vessels they will sink and block the Badagry ship channel.
"Sir. I very humbly request that you cause action to meet with the rescue of this vessels. And indeed all other vessels under the PPP agreement to avoid the looming risk of great loss (sinking) of vessels. Thanks for your anticipated timely response."
Findings show that the contract between NIMASA and GWSVL terminated officially on the 3rd of April 2022, precisely10 years to the date the vessel sunk.
Sequel to the terms of the agreement, all vessels hitherto under the ownership of the company is expected to revert to NIMASA.
It will be recalled that the Economic and Financial Crimes Commission (EFCC) in 2015 charged Global West Vessel Specialist Limited to Court for Bench Mark and Vessels Specification on CHARGE NO FHC/555/2015.
On 15th of July 2020, after five years intense legal fight, the court discharged and acquitted GWVSL of any wrong doing.
It is believed that EFCC did not appeal the judgment entered against it.
Responding to journalists question on the consequences of a Maritime Administration losing it's asset in the circumstances Barugu found itself, an expert on maritime operations and security said by the judgment of Justice Buba, GWSVL and those charged along with it by EFCC ought to be free without further legal encumbrances.
He said, "The vessels could either have returned to work or returned to the owners. However, if I was to make that decision, I would have preferred the assets be kept to enhance the DEEP BLUE PROJECT."
"As signatory to UNCLOS, which is the United Nations Law Of the Sea, the section regarding rescuing of persons in need of help from a ship in distress, IS WITHOUT BIAS. "
Just before NIMASA-Barugu sank, one of the crew in an emotion laden voice lamented the development as a show of official negligence and leadership rascality.
"Barugu is sinking, it is finally sinking. We have called NIMASA, we have told them the vessel is in trouble. We have been calling NIMASA since January 18, this is a case of pure negligence."
As the vessel took in huge amount of water and submerged, the chap wailed "Oh Barugu has finally sunk", one could almost feel his deep hurt, his emotional attachment to the vessel as a seafarer; and his inmost pains about the uncaring attitude of Nigerians placed in position of responsibility to lend helping hand at the time of distress.