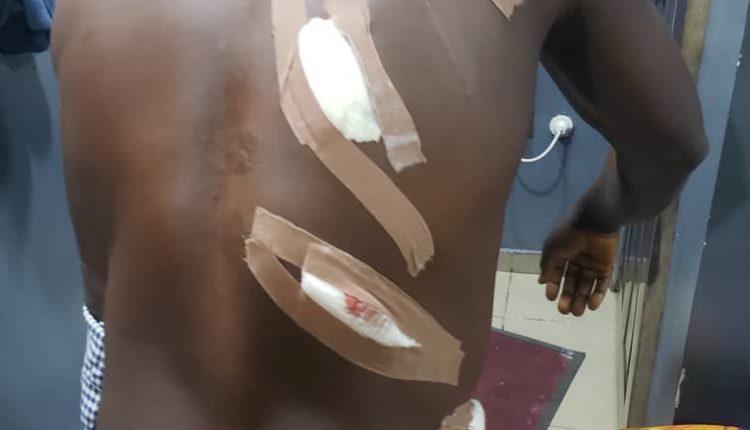 Tin Can Island Port Lagos had a raw taste of gang war as factions of the Association of Nigerian Licensed Customs Agents (ANLCA) displayed the dark side of its underbelly, sending everybody within sight scrambling for dear life.
According to the faction loyal to the Board of Trustees (BOT), trouble started when its Chapter Secretariat located with the sprawling Seaview Properties Plaza was invaded by gun men allegedly led by Ojo Peter Akintoye, alongside Wasiu Osiniwo and Wale Iku.
The trio believed to be loyal to the National Executive Committee (NECOM), allegedly came with other dangerous weapons, reportedly chased away private security guards on duty during the wee hour invasion on Sunday, and reportedly ransacked the place and made away with valuables, including undisclosed amount of money.
According to account of members sympathetic to the BOT, the NECOM faction regrouped and visited the secretariat again on Monday evening around 7.30pam, sending panic amongst port users leaving the port. In the melee that followed, the BOT group claimed that machete cuts were inflicted on one Adetunji Olasunkanmi, who was allegedly, subsequently carried away by his assailants.
Our source said the Monday attack was led by one Wale Cole, working for Ojo Peter Akintoye, the factional chapter chairman. The said Adetunji Olasunkanmi was allegedly taking into a speed boat by his abductors, but that he managed to escape during the ride.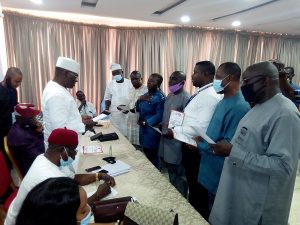 Earlier on Sunday, Akintoye and his alleged gang moved away the chapters' operational vehicle, a Toyota Hiace Bus; believed to have been donated to the chapter by the immediate past chapter chairman, Mr. Segun Odutun. This is even as a BOT source informed that Adetunji Olasunkanmi, who was left for dead after the savage attack and alleged aborted kidnap, was rescued and taken to the hospital unconscious.
After few hours in coma, Olasunkanmi reportedly came around following intensive battle for his life by doctors, and is reportedly under stable condition. Chief Mike Okolichi, Vice Chairman of Tin Can Chapter in a statement made available to our reporter accused Mr. Ojo Akintoye, of master minding both invasion, supported by his factional co-executives, in addition to hired hoodlums and cultists.
The statement reads: "ANLCA Tin Can Island Chapter Secretariat was invaded under guns and weapons by the Factional Head Ojo Peter Akintoye , Wasiu Osinowo and Wale Iku."
"At the early hours of today 30/05/202, Sunday Morning, while members are suppose to be at the Churches and Mosques, Ojo Peter also known as OPA invaded and Rob the secretariat of Tin Can Chapter with guns and their deadly weapon in their hands.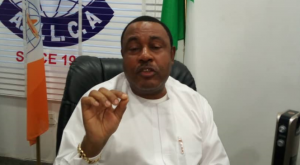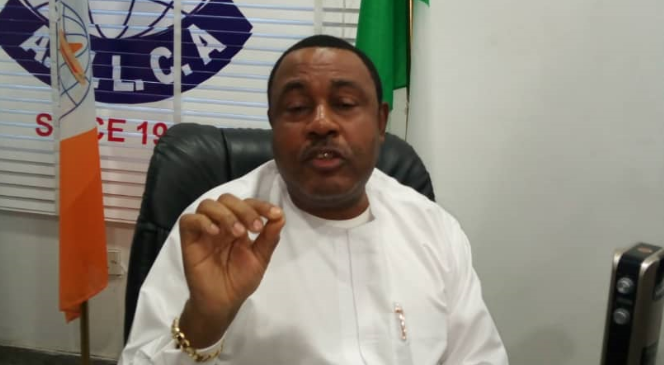 "They chased Seaview Property Security men away from their post and forcefully gained entry into the premises with towing vans to toll the 2 Vehicles and made away with other valuable things like money and relevant documents. They were only able to tow the Toyota Hiace Bus with valuable things left inside as at Friday after close of work."
Contacted for his reaction, Mr. Ojo Akintoye denied involvement in the whole saga, saying he was falsely accused. Akinyoye not only denied involvement, he said he was a victim of the later crisis on Monday, noting that the Tin Can Island Port, Divisional Police Officer (DPO), was the one that rescued and ferried him away from being attacked.
Speaking on the attack on the chapter secretariat, Akintoye said ANLCA National President, Iju Tony Nwabunike  have the authority to deploy any means to recover property of the association from person not recognized, having such properties under his custody.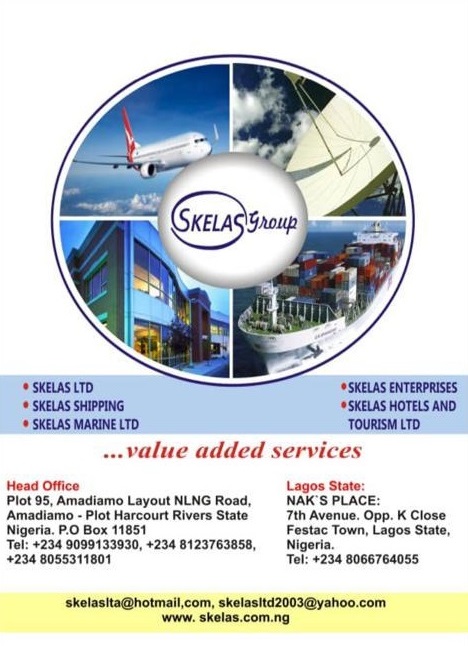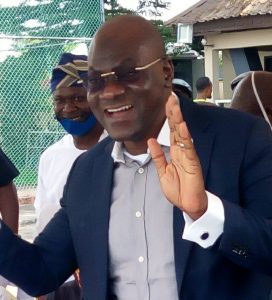 His words, "I don't know anything they are talking about. Firstly, concerning the secretariat, The NECOM led by Hon. Tony Iju who is the president wrote them a letter to vacate the place and surrender properties of the association in their possession to the national secretariat or to the elected officers.
"The letter was served on them, the Nigerian Police was copied, the Ports Commissioner of Police was copied, DPO was copied. If the national secretariat felt, after giving them a time frame of returning properties in their hands and they refused, they now went there to take the bus on their own, l don't know what is wrong with that, l don't know why they are linking me to that. When there is a faction, you should expect such but that does not make me…"
He continues: "l was in the church on that fateful day. So if somebody now say that my ghost came to pick a bus, because l am just a person, l cannot be at two places the same time. I think the DPO Tin Can Island can give you very reliable information about what happened. I came to my office on Monday, around noon, just as l wanted to enter my office at the plaza, they came to attack me.
"I have to run to my office and lock myself up there, and called the DPO. Thank God he came to meet me, he saw them in their thousands, (they) wanted to attack only me. So it was the man that rescued me out of their hands. He took me to the police station, from the police station we went to Apapa to the Commissioner of Police office, from the CP office, he even wanted me to come and write statement, but with a lot of pressure, he dropped me off at Liverpool to find my way to my house."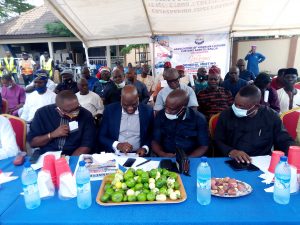 "So if they are saying l am the one that came to attack them, only me, l am not an abija, (how) will (l) attack almost a hundred people with weapons. The allegation is false; I don't know anything they are talking about. They are just seeking opportunity because they want to have their way by all means, to continue to occupy the illegal seat they are occupying through false information; which cannot take them anywhere."
Akintoye also faulted the claims of his factional counterpart regarding the state of health of Adetunji Olasunkanmi, noting that they are dancing to the gallery.
"As at yesterday night, (Tuesday) 11pm to 11.30pm, they publicized it everywhere in social platforms that thebjoy who got injured himself, has died. Now this morning they found out that the man is still alive. That is what they know how to do best", the factional chapter leader said.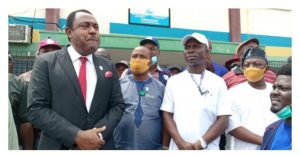 Disputing above claim however, sources close to the embattled TCIP Chapter Chairman, Alhaji Majeed Akanni averred that Adetunji Olasunkanmi actually slipped into unconsciousness but was later revived. More importantly, Akanni group alleged failed kidnap and attempted murder of the victim in a whatsApp communication, reposted to our reporter.
The message reads: "Attempted murder of Adetunji Olasunkanmi at NPA Commercial Building Complex beside ANLCA Tincan Chapter Secretariat on Monday evening 7:30pm by Ojo Peter, Factional Group on the instruction of Mr. Tony Iju to forcefully take possession by bandits which were led to the premises by one Wale Cole as team leader.
"We are bringing you live from the hospital where the victim that was kidnapped and escaped through the lagoon, while his abductors are using speed boat to search for him before the police chased them away. The victims is currently struggling with his life after being resuscitated back to life by the doctor yesterday 01/06/2021 when he gave up the ghost at about 9:13pm.
"With the effort of the doctor at about 11:45pm, his heart started beating. The doctor said it was as a result of the poisonous dagger used by the bandits led by Wale Cole that has spread into his veins and causing the heart to fail.  He is currently responding to treatment."