Customs discards questionable SOP, returns to inter-agency MoU on seizures
After about two years of seeming unauthorized blockade against sister agencies in which seizures made by operatives of the Nigeria Customs Service (NCS) outside its primary jurisdiction were held back and destroyed by the service, the service has returned to the official regime of handing over seizures made by it to the primary agency concerned.
Above development is coming on the heels of the NCS handover of seized items to officials of the National Drug Law Enforcement Agency (NDLEA) by the Federal Operations Unit Zone D and Ogun Area 1 Command of the Service, within the week.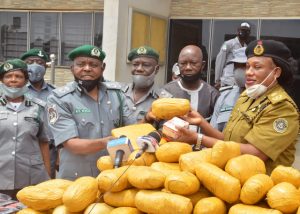 While FOU Zone D yesterday handed over Cannabis Sativa , otherwise popular known as Indian Hemp with an estimated street value of about N30million to the NDLEA Command in the state, the Customs Ogun 1 Area Command handed over 3,165 wraps of same substance made up of 290 sacks with a Duty Paid value of two hundred thirteen million, six hundred and seventeen thousand, eight and sixty naira (N213,617,860), in addition to 41 packets of Tramadol Capsules (225mg and 120mg) with Duty Paid Value of twenty million, five hundred thousand naira (N20,500,000).
Controller FOU Zone D Bauchi, Comptroller Adesanmi  Omiye in a report said hand over of the seized items to the NDLEA was necessary . He said, "The Nigeria Customs Service is aware that the NDLEA is a federal agency, established and charged with the responsibilities of eliminating the growing, cultivating, processing, selling, and trafficking of hard drugs."
Also speaking on the latest development, the Customs Area Controller of Ogun 1, Comptroller P. C Kolo said the handover to NDLEA was for necessary further action. His words, "Today, I have cause to invite you once again to witness the handing over of some illicit and dangerous drugs seized by the officers and men of the Nigeria Customs Service,Ogun I Command in the course of our patrol activities to the National Drug Law Enforcement Agency (NDLEA) for further necessary action.
"The handover of these illicit drugs is part of our effort in collaborating with the NDLEA in riding the country particularly Ogun state of illicit drugs and harmful substances."
It will be recalled that the Customs in the past one year made a number of seizures of questionable imported items which is outside its primary mandate, which destruction it undertook, although, very often, extending invitation to concerned agency to witness such destruction.
Whilst officials are not forthcoming with explanation of why the NCS purportedly and unilaterally halted the exchange protocol spanning almost two years, discreet insiders information revealed that the Comptroller General of Customs, Col. Hameed Ali (retired) gave the order not to hand over seizures made by its operatives but outside its purview to concerned agencies of government including NDLEA, National Agency for Food and Drugs Administration Control (NAFDAC), Nigerian Security and Civil Defence  Corps, and standards Organisation of Nigeria (SON).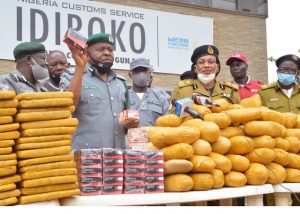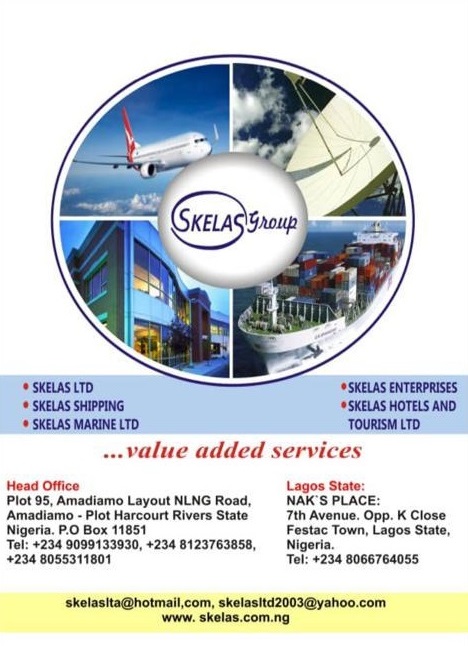 Gist volunteered by industry players and observers indicate that the CGC's action was purportedly based on fear that the items handed over were not been properly managed by the concerned agencies.  It is also however not clear where Ali received the authorization to do otherwise in respect of the clear formal procedures about handover of seized items to agencies of primary jurisdiction.
Despite that the Customs boss posturing enshrined in its Standards Operating Procedure (SOP) clearly violates the existing culture and traditional inter-agency relationship spanning decades, no agency appeared to have challenged this obvious breach of protocol that has guaranteed agencies inter-operational synergy amid exercising their clear autonomy and independence of one another.
Industry gist informed that Ali's perceived antidemocratic posturing in respect of the development may not be unconnected with his military background characterized by totalitarianism, aside his famed closeness to President Muhammadu Buhari.
While it is also immediately not clear what prompted the sudden reversal and return to the rules of engagement, the rumour mill is agog that the presidency may have come under pressure to ensure that ministries, departments and agencies (MDAs) stick with their enabling civil service procedures.
This is even as industry grapevine posits that the new development may also not be unconnected to the recent appointment of Brig Gen Buba Marwa as Chairman/CEO of NDLEA, who it is believed may have rattled Ali to respect the rules of engagement.
Also recall that the NDLEA has since the coming of Marwa upped its ante, operation wise, recording unprecedented successes and new breakthrough in the combat against narcotics. While the battle has since been taking to the doorsteps of drug barons, their agents and couriers, Marwa has also embarked on raising the pillars of professionalism in the agency, while firmly maintaining its duties in line with its SOP.
It will be recalled that the agency in the last couple of weeks has seized a number of containers of regulated drugs including Tramadol, at some ports in Lagos.
Attempts to get official clarification on the latest development from Customs proved abortive as officials were unwilling to speak. However, a source at one of the zonal public relations offices who was not authorized to speak said "there is no big deal in this issue, what is important is that the rules of engagement as put it is now effective."
Meanwhile, there are indication that the Sector 4 of the Joint Border Patrol covering Bauchi State and others superintended by the Nigeria Customs Service is heavily coming under bandits pressure, a development that has put operatives of the border drill under severe safety concern.
Coordinator of the Sector, acting Assistant Comptroller General of Customs, Mohammed Uba reportedly said the border drill operatives have began to make considerable concession to the bandits, in view of their mutual radius of operation. Details of the development will made available as Pinnacle Time gets clearer update.