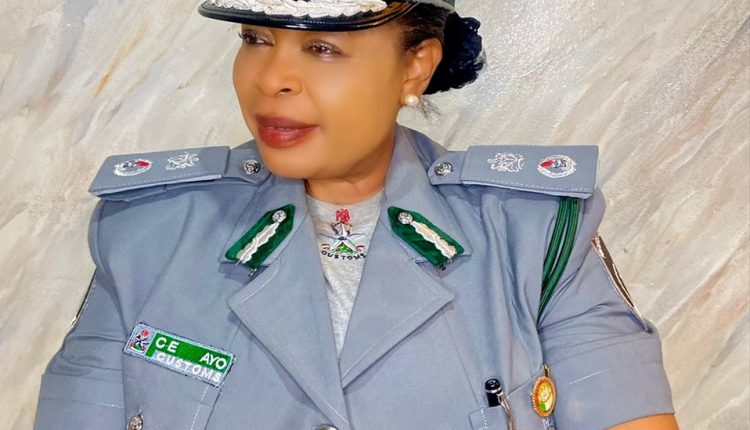 Trail Blazers: TCIP Command birth 5 comptrollers
BY EGUONO ODJEGBA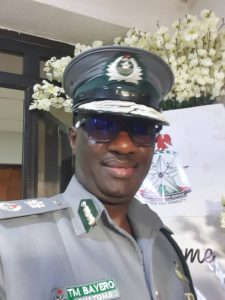 Facts emerging indicate that the Tin Can Island Port (TCIP) Command of the Nigeria Customs Service (NCS) came top in the service's recent promotion exercise, as a total of fiver Deputy Comptrollers from the command were promoted Comptrollers.
They are Comptrollers Caroline Ebun Ayo, Yisa Dorothy Omogbehin, A.M Adamu and Adegbite, respectively; all of whom are believed to have distinguished themselves meritoriously, contributing positively to the growth of the service's image, duty and the development of the national economy.
The lucky four are also proud members of the management team under the Comptroller Musa Abdullahi led TCIP Customs Area Command, with a record of trail blazing performances in the past three years.
Confirming above development, the Command Public Relations Officer, Uche Ejesieme, who also got promoted to the rank of Chief Superintendent of Customs, said a total of two hundred and nine (209) officers of the command were promoted to the next rank; including Deputy Comptroller Balogun Adedokun Wasiu, Valuation Unit and Deputy Comptroller Usman Abdul Rasaq, Officer-in-Charge of Car Park 'C'.
Comptroller T.M Bayero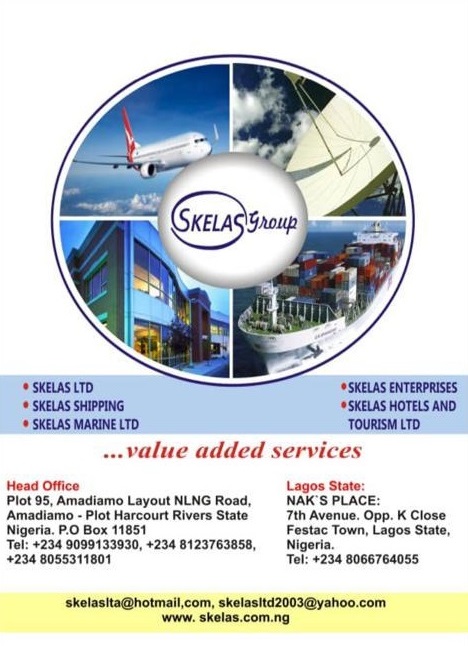 The Command Deputy Comptroller, Admin, T.M Bayero expectedly bagged the Comptroller rank. His promotion signaled one of the happiest moment for the command, as the man that was more or less the face of the command, second only to the Area Controller. A gentleman officer, seasoned  and sound administrator, Bayero was the conscience of the command, and a father figure to officers and men.
Since his posting from the Oyo/Osun Command less than years ago, the aura of his work culture has remain infectious, with many younger officers speaking glowingly of his dedication to duty, and of his finesse in attending to officers and men specific and general needs.
Comptroller Caroline Ebun Ayo
Whilst Comptroller Ebun Ayo was until her promotion the non compromising and non bendable Deputy Controller in charge of Tin-Can Island Container Terminal (TICT), regarded as the hotbed of the command's clearing system, notorious for rebellious customs brokerage activities, chiseled in unending and often frivolous petitions by customs agents, Ayo navigated the rough terrain without blinking of succumbing to the routine usual threats and attempted blackmails.
She routed the non compliant agents without apologies, clamped down on illegalities and carried out a number of high profile seizures, including weapons, restricted automobiles, narcotic and questionable cheap generic pharmaceutical products.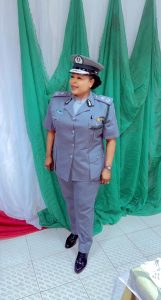 A product of intellectual power house, Ayo is a trained lawyer and technocrat, and holds a PSC (+) in addition to holding the Distinguished Service Medal. A competent, meticulous and no nonsense officer with zero tolerance for misconduct and or acts incompatible with the rules of engagement, she is believed to have made significant intellectual impact and trail blazing diagnostic mark while at the Customs Staff Command College, which came handy in her later assignments and postings; especially at TICT.
Posted to TCIP Command in April 2019, Ayo was posted to TICT, also known as Car Park B2. Her contributions to the overall performance of the command and its anti-smuggling activities are not only significant, but far reaching and substantial.
She is believed to have enjoyed the tremendous support and confidence of her former boss, Comptroller Musa Abdullahi; serving at the command.
Comptroller A.M Adamu
Until his promotion, Adamu, renowned for his anti-smuggling records, was the Officer-in-Charge of the TCIP Roll-On Roll-Out (RORO) Gate. His exploits as the OC Roving, Federal Operations Unit Zone 'A' Lagos remains strong indicator of what he is capable of in pulling off major financial adjustments in an otherwise belligerent atmosphere of revenue losses.
It will be recalled that his tremendous anti-smuggling performances also earned him special promotion few years before he was appointed pioneer Coordinator of the CGC Strike Force, Zone 'C' Port Harcourt; where he again plugged huge revenue leakages. His stint at the Strike Force was the crowning glory of his career as deputy comptroller.
Upon his redeployment back to the Western Marine Command, he stood tall still as the officer to beat in, up until he was again posted to TCIP as the OC Gate Roro port. It bears repeating that here also, Adamu demonstrated his tuft as a crack officer, sniffing through the mire of otherwise impregnable and foolproof questionable containers, he returns or turns over to enforcement unit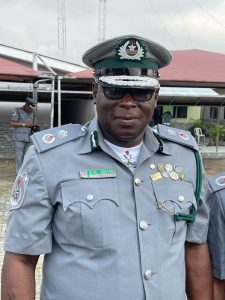 .
Although his stint as OC Gate Roro port was a brief one, it was no less memorable nor devoid of his crusading adamant posture and insistence for the strict application of the rules of engagement. His elevation to the rank of a comptroller is therefore, no less predictable given his idiosyncrasies and knack for the right things getting done at the right time.
Regarded as a brilliant, diligent, disciplined and meticulous officer, Adamu is also adjudged as one of the most courageous, bold, smart and unpretentious officer, who is never afraid to do the right thing at the right time. In the field of smuggling and anti-economic activities, Adamu is an irredeemable, unapolgetic spoiler.
Comptroller Yisa Dorothy-Omogbehin
Dorothy-Omogbehin is an Amazon of operational excellence in revenue administration and risk profiling. Her exploits as a seat officer has contributed immensely to the successes of the command. Until her promotion, she was Deputy Comptroller in charge of Vehicle Seat at Ports and Cargo Terminal. A quick learner and unmistaken team player, she was believed to have also fully keyed into the vision of the Customs Area Controller, the man officers and men of the command fondly call, MBA.
It is on record that Dorothy-Omogbehin brought sanity and discipline to the terminal upon her posting to the place; once regarded as a riotous, rowdy place, and where officers without stamina and operational capacity or administrative wherewithal, are not known to last because of the alleged unsavoury and cranky posturing of clearing agents, notoriously versed at stampeding officers into dangerous tendencies.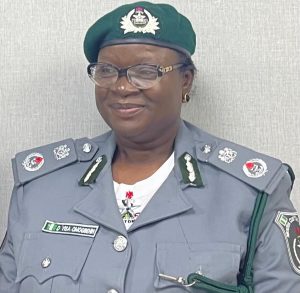 Inquisitive and erudite, she holds a B. Ed Degree from the prestigious Ahmadu Bello University. She was among the 9 selected pioneer officers that were trained for a year in Lome- Togo in ASYCUDA conversion course (September 1997 to September 1998). As a member of the project team, she was posted to Apapa Nigeria premier port to start ASYCUDA as a technical supervisor.
Comptroller Dorothy was also a member of the Valuation and Classification Capacity Building Team trained by Cotecna, between 2008 and 2009. She was also part of the Customs team trained in Geneva Switzerland on Risk Management.
Comptroller Adegbite
An uncanny tariff reader and revenue minder, newly promoted Comptroller Adegbite is one officer you can comfortably describe as an ICT guru. Understandably, he was a former TS and APM officer at various commands, undertaking strategic duties and special assignments. Adegbite made his mark as an ICT officer, where he combined diligence and savvy officer to uncover several revenue discrepancies. He has attended several courses in tariff, classification, valuation, risk profiling and cargo selectivity. He remains a great asset to the service.
Deputy Comptroller Usman Abdul Rasaq
Deputy Comptroller Usman A. Rasaq was the TCIP Command O/C Car Park C, where he has been able to carry out a lot of positive turnaround in terms of promotion of compliance. Once regarded as a haven of notoriety and known for its volatility, Usman under the guidance of MBA brought the vehicle terminal operations in sync with the extant rules. Thus under his watch, issues of vehicle thefts, vehicle flying and other irregularities were eliminated and became things of the past. He brought out his managerial acumen to bear in cleansing the place, and ensured government revenue was collected to the last kobo. Usman can be described as a prototype work culture of MBA, been a beneficiary of the Area Controller's team; and which proclivity to the service's adherence for Standard Operating Procedure (SOP), appears unmatched.
Deputy Comptroller Balogun Adedokun Wasiu
Comptroller Balogun Wasiu was until his present promotion, the Staff Officer in charge of Valuation Unit of the Command.
A very versatile officer, Wasiu was a former Public Relations Officer of Sokoto/Kebbi/Zamfara Area Command. For the command and headquarters, Wasiu is regarded as the engine room of the command's valuation department.
According to Uche Ejesieme, Wasiu was decorated with his new rank at the headquarters, Abuja. He described the valuation unit of the command is an assemblage of the well trained team, and where Wasiu and all the officers are always up to speed with the change mantra of the CGC.
Even though the valuation department is operationally answerable to Abuja, the command PRO said Wasiu unquestionably implemented the direction of the Area Controller for every transaction, where Debit Notes are correctly captured and religiously pursued and recovered.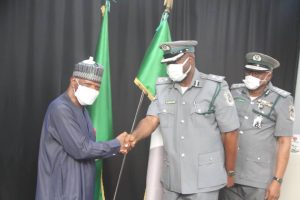 To close observers, Wasiu's promotion didn't come as a surprise. A graduate of accountancy from the University of Lagos, Wasiu is versed in Tariff and Trade, Classifications and the entire gamut of ICT Modernisation of the Customs Service.
A quintessential officer and a great asset to the service, he has served in various commands, locations and served in various fields and specialization. He has also attended several courses within and outside the country, and received training in valuation, classification, risk analysis and management.
Deputy Comptroller Balogun Wasiu is also a product of the National Institute on Policy and Strategic Studies, Kuru near Jos.
It will be recalled that the Customs Management Tuesday released the list of the promotions of 2,707 officers, with appointment of four Deputy Comptroller Generals (DCGs) and 12 Assistant Comptroller Generals (ACGs).
Those promoted according to a statement signed by the Deputy National Public Relations Officer of the Service, Timi Bomodi, includes 35 Comptrollers, 64 Deputy Comptrollers, 118 Assistant Comptrollers, 244 Chief Superintendent of Customs and 339 Superintendent of Customs, among others ranks and cadre.