'Nwabunike actions led to ANLCA Western Zone revolt and fledging crisis '- Nwokeoji
Mr. Emenike Nwokeoji ran against the incumbent National President of the Association of Nigeria Licensed Customs Agents (ANLCA), Iju Tony Nwabuinike in 2018, and lost by three votes.
Although he has kept to himself and away from association politics, getting him to speak on the present crisis was therefore, not an easy task. But having reluctantly accepted, he was a media delight as he opened up on some of the inner secrets of the association and its seeming murky political waters.
With equal reluctance he put the blame of the ongoing crisis on the footstep of the president, accusing him of playing a cavernous and close-ended politics, summing it up with the verdict: "Iju lacks leadership capacity." He spoke with Pinnacle Time Editor-in-Chief, Eguono Odjegba.
 Can we talk about ANLCA and burning issues threatening its stability?
You said you are from Lagos, isn't that where the show is happening? You must have spoken with a lot of other people, sometimes I read about some of the issues in the media. Am sure you have heard from many others, why don't you just report their own position, I don't feel like talking.
As a presidential candidate in the last election, not talking could be misunderstood, I also know that occasionally, your name gets mentioned; I will appreciate if we can hear your own perspective
(Chuckle) Okay,iIn 2018 I contested the presidential ticket and Iju Nwabunike was declared winner. So anything I say could be taken to mean I have grudges and that is why I stay away and feel reluctant to talk about ANLCA politics. I try to avoid any insult, even though sometimes, one cannot run away from insult when his house is on fire like you right mentioned. If we are careful to analyze the whole thing, it boils down to the national president's penchant for what I will call his un-presidential behaviour and petty politicking. You see, this whole problem, I can sum the whole problem up as lack of capacity, leadership capacity. Take the matter anywhere, who are the people still going to the National Secretariat, they are people that are eyeing one position or the other, not people who are contributing for the upkeep of the association. Anyone you see there are those scheming to be chapter chairmen somewhere, you can't see past leaders going there, and that tells you the low esteem, the low passion that presently characterize ANLCA. "Oh I was just passing and decided to stop over and say hello"…let them tell you one past leader that has done that in the past two years. His leadership style or lack of leadership style is responsible for this coldness, this distancing. Misunderstanding is normal amongst friends and even family not to talk about people from different backgrounds, but what defines a leader is how he responds to issues of misunderstanding. A leader is the father of all; he must demonstrate that fatherly disposition at all time. If he fails, he is not a father and therefore cannot command respect or adjudicate over misunderstandings amongst his members without getting involved. You will be deceiving yourself that with Olayiwola Shittu in Lagos and I in Port Harcourt, we never disagreed throughout the eight years he was ANLCA president. We are friends, he is a Yoruba man, I am Igbo, and we are members of ANLCA, with him in leadership position and I with my expectations. Are you saying we didn't at some points disagree over association issues? We did, but he responds to questions and even query, he explains and listen to others views, and accept fault and responsibilities where one is established. That is leadership quality, the capacity to manage leadership position. Nobody hears about our fights, not even our secretaries. And this is not just only with me; that was how he related with every other member. When the executives in Lagos are attacking each other and abusing one another on the pages of newspapers, and meanwhile you have the other group you consider your common enemy, it shows lack of capacity. In any case, you can't give what you don't have. Nothing is happening in ANLCA and all the agencies of government and even other associations are taking advantage of the low steam and our lack of leadership capacity to look down on ANLCA. ANLCA has lost much of the voice we built during the past administrations, which peaked during Shittu's tenure. Shittu built a family house and members felt the impact. Now we have lost much of that. Agents sleep well now when they have no jobs. Once you have bill of laden on your table, you start having high blood pressure because of what they will go through during customs formalities and documentations.
Are you saying the ANLCA charms, effervescence and influence is all gone? And that it has lost the glory of when leaders sneeze and government agencies listen?
That is what I am saying, we have lost that. There was a time one of the area controllers newly posted to Onne attempted to be funny. Apparently one of the agents who have rushed to welcome him on the first two weeks warned him to beware of Emenike, that very soon Emenike will be the controller and he the controller will be his vice. Somebody came to tell me what transpired, and the day I met the controller, he was edgy and with a straight face. The next thing he gave orders that the secretary should remove visitors chairs from his office and that any visitor must fill the visitor form. I greeted him the first time I went. I introduced myself, I assured him of our cooperation and left. The next time I came after their gossip, the secretary said I should fill the visitor's form and I said I won't that I don't know how to write. For me it's was an insult, customs and customs agents are both working to collect revenue for government, and courtesy demands that certain protocols must be relaxed when we visit each other. So the secretary kept pleading that it was the new rule, I insisted I don't know how to write. While we were on it, the controller came out, he was seeing somebody off. "Ah big man", he said to me, "what is happening, why didn't you come inside?" I said I don't know how to write and his secretary wanted me to fill a form. He turned to her "madam can't you use your common sense, don't you know him? I beg go inside, don't mind her." I was fuming and refused to go inside. When he came back he saw me and said "Ah you haven't gone inside, please come in." We went in and I immediately told him pointing to the photographs of past controllers on the wall. "From this controller to your predecessor, sometimes I take my lunch in this office. If you don't like my face I will stay away from your office, even if it takes you four years to remain here." He said "but I have just arrived why are talking like this, are we quarreling?" I needed to give him the right message; he cannot mess up with me. God is my witness the man later on was giving me jobs to handle. The way you carry yourself matters, when I was chapter chairman here, R. O Dudu was the first controller. One day I met him and told him I have somebody I want him to post. I called the officer, he is now a DC. Somebody introduced him to me, he is an Igbo man, I knew his father. I greeted him and said which seat are you? He said he does not yet have a seat that he has just arrived and that they have not posted him. I asked him where he would like to work, he looked at me and said anywhere. Obi Chima now said maybe gate or wharf office. I entered the controller's greeted him and said, 'do you know this man?' He said no. I said I have brought him to be posted as my brother. Immediately he said "I hope you have not brought an Igbo ma?, I have not even finished my statement. I sparked, I said, "Oga all the names I have ever given to you I have not presented any Igbo officer, call anyone and ask." He noticed he has erred, he said "Okay, what is his name?" I said it. He said "eh if you are expecting me to post him to wharf office, I will not post him to wharf office." I said what do you mean, the cargo been cleared there belong to Igbo, don't you know that posting Igbo man there will give the traders additional confidence to continue to land their goods through Onne? And I said to him, before you came we have been going to Onitsha, Nnewi asking them to use this port instead of going to Lagos. I came here to tell you let us do the same since you since you have assumed duty, you said no customs officers is sent to go and do marketing. I said okay send your officers, you said what if anything happens to them on the road what will I tell Abuja? You said I should forget it, that you will make do with what comes that nothing will be removed from your salary whether revenue rises of falls. He said he will not post him to wharf office, I say oga you will post him. He said there are Igbo officers there, I said Oga there is Igbo there.
I think I understand your point, that a strong leadership can benefit the members
Yes. When Shittu wanted to open our secretariat, we pulled Dikko from Abuja to attend. Whenever there were issue we call the CG and say we will like to meet with you sir. He will look at his schedule and give us a date. Severally, Shittu, me and the secretary, Opara, we meet. We will close door and have meeting with Dikko. We engage and exchange words sometimes; he will discuss customs plans and plight, the need for destination inspection and so on and so forth. We were relating like equals and critical stakeholders, when he says we are corrupt, we will say, you are more corrupt and laugh it off. So what I am telling you is the power of building strong relationship by the leadership. Because of personal interest, we voted a man that is not a clearing agent, he was a clearing agent. lju no longer go to the port. When the campaign was on he was running for House of Representatives election, his bill boards were all over the place. You can't put one leg here and one leg there, you cannot focus. What is the problem we are having at the secretariat? The truth is Farinto and co went into fasting and prayer for Iju to win election, so that he, Farinto will act as president when Iju goes to the House of Reps. When he lost that was where the problem started. They have never being the best of friends, they broke relationship long ago because Iju and Farinto shared office, long ago, and it did not end with a hand shake.
Really?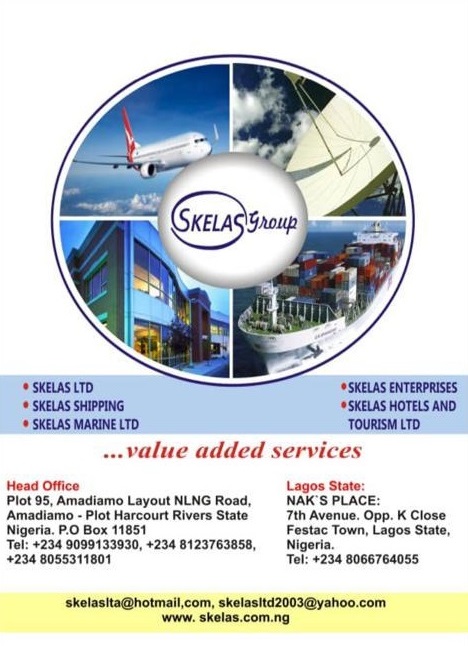 Yes, go and find out. The common face you are seeing today is should I call it expediency…go into political marriage with your enemy in other to achieve victory. You know, they were looking for a Yoruba man, Farinto wasn't getting on too well with his Yoruba kins and kilts. If you were there when the Yoruba had their Odua Day, you would notice that he was like a visitor. He wasn't involved and didn't fit in. All the Yorubas were wearing white, he wasn't, he dressed differently, he wasn't sitting with them, all the things they were doing, he wasn't part of it. He was just like us, visitors. So when they met before the election, they asked him to step down. Odua people asked him to step down. He said he will not that they did not pay for his form. That is where his problem with Odua Maritime started. If you know how victory is, once you win, you see people come to identify with the winner. So it is understandable that the fences have been mended. The story of ANLCA under the present leadership is really appalling. We have people that are not actually out to build the ANLCA that all of us dream of, but are there for the political benefits. During the elections, ANLCA was having issues with CRFFN, we went to court, Iju government settled with CRFFN and abandoned ANLCA's cause. Now, every of their plans is to extend their tenure, second is to start collecting money in the port, the POF.
Are you opposed to that?
We are not opposed to it, we are saying CRFFN should bring out their list, if they have 10,000 registered members, less than 1000 are licensed and the bulk of the money to be generated will come from practicing licensed agents. Is only when you clear cargo that you will pay, abi? And then when you now share, you will share it to people that are sitting bye, the registered transporters, all the agberos in the port, CRFFN registered everybody that stepped out. You see it is easy to destroy, people like us, it is part of the reasons I lost the election. The CRFFN man in charge of registration called me, appealed to me that we should just give our consent, you remember Shittu resigned from CRFFN? That I should just convince Shittu, let us give our support, for this CRFFN team, that once they start collecting the money, that they have done the study in one terminal alone, see how much, the volume of containers that will come out and how much will be generated from it. I said I am not against it; I need money but its unfair for you to rob Peter to pay Paul. Meanwhile, the registration, as at the time they registered those associations, it is only ANLCA that was qualified if you go by the Act. The Act stipulates that the associations must have branches in all the ports and land borders, at least a percentage of the overall. AREFF didn't have any office anywhere then. Some of them were only at the land border. When I asked they said they don't want any litigation, they don't want anything that will stall the collection of the money, POF. They just brought everybody together and say, don't worry we are going to share these money. How much do you get there? I now told the man, he must have thought if I hear money I will get carried away. I said if you give ANLCA N100m and give AREFF N3m, that one person in AREFF can get N1m and share the remainder to the other members. But ANLCA people cannot get N10, 000 because of our numerical strength. You want to use ANLCA to generate money and dash it to all manner of people? It will not work, I told him. That was when they realized that there was no way.
Is that the cause of the stalling of the collection of POF?
Fundamentally, yes. If you are not qualified, you are not qualified, if you like write petition from today till tomorrow, your petition can only fly if you are qualified. You know, the issue of CRFFN is huge, ANLCA initiated it and NAGAFF was also a very strong voice for the formation. How can you have a Governing Council without a personality like Shittu in it? In fact all past presidents ought to be part of the Governing Council, they should have automatic qualification. If you were there when Shittu launched his book, you will know his caliber and outreach. Let's not play politics here, people like Shittu have the reach and that's what we need. That's the problem we are having with people we call BoT. BoT go to Abuja you will find accommodation for them and give them pocket money. They don't have the telephone number of a Customs ACG. BoT members should be people with reach and clout that can raise dust and open doors. And once you see them come out, you know the matter is tough. Can you imagine CRFFN toying with ANLCA? Whatever you sow you will reap, the issues of ANLCA are straightforward. One, Iju…because some of you did not attend the election in Enugu. We were there, money was changing hands inside the toilet, and there was an announcement that the toilet you can access from the hall is closed. Me I was wondering because I have gone there to ease myself. I put myself forward to serve, if it is the Will of God, fine, if it is not I go back to my house, I am not mad about titles and positions. Wherever I am today, it is only God that made it possible, so why should I force my way to lead. I never knew they were sharing money in the toilet; they will phone and ask somebody to come to the toilet. They will give him money to vote for them. Have you ever heard of a situation during voting where somebody will be inside the ballot cubicle and people are complaining why are wasting so much time there, he will say " I made a mistake give me another ballot paper." Somebody went there and gave him and collected the other one and squeezed it.
Open electoral malpractice?
These are the things they did and at the end of the day, the difference was thee votes. If Iju had capacity, after that…the next day I went to my village. I was in my farm when he called me on the phone a day after. He wants to appeal to me that we can work together and to make the association…I know some people must have urged him to make the call. I said no problem. If you want to appeal to me…the things they are writing in our platform, people celebrating and saying "who say government nor de", people celebrating and calling other people names, people celebrating and saying, Mr. Okeke is now incoming, in a position been held by somebody with his tenure still valid and running, and there is no election conducted yet for that position, and yet are been addressed as incoming? And yet you claim to have leadership capacity and want support and peace but failed to call your supporters to order? How do you interpret that? After elections have been won and lost, a true leader will start building bridges immediately. But Iju went home and was looking at his men throwing stones and jeering and laughing. Then, the first and only election he has ever conducted was Lilypond chapter Ijora. They tried everything to scout for somebody to challenge a man they claim is from my group, who was the incumbent. They went and get a man who has no practicing license and at the end of the election, they tried everything, before the election, the ASECO man that is in his camp disqualified the man Iju brought and the incumbent won.
Really?
Till today Iju did not swear him in. Have you now seen how a man of his own decides to destroy his own tenure? Why wouldn't you swear the man in, in Ijora that was a struggling chapter? Now the chapter is defunct, NPA took over the place. So that development made the other chapter chairmen in Apapa and Tin Can to now reason that if this man that won in an empty chapter is not allowed to assume office, is it Apapa or Tin Can he will allow? That was why Western Zone felt worried and said no, we cannot support this man. Have you seen it? Lack of tact and diligence. I say Iju have no capacity. Let him challenge me, I will expose him further. That was an opportunity to cement relationship, to bring the Yoruba in, to show them that you are open. He missed that and that is where we are having the greater problem. A leader must sacrifice; can you catch a fish without giving the fish something to eat? If you put worn in the hook then the fish will come, Iju couldn't even sacrifice that empty chapter, Ijora. He used a small to create credibility problem for himself. Iju is his own problem, how do you help such a man? Who takes the credit and blame for chapter elections? ASECO supervise the elections, you direct. So this act of name calling is the character of drowning people. If I open our platform for you, you will see his supporters abusing people, insulting people. Why would you as a leader condone such a supporter? My major supporter…we went to Ojugburu for a burial, and the man was making some careless statements there. I said old boy you need to ride with me. We left Ojugburu I blasted this man, I said for God's sake, this is not war. "..emm Mr. President there is nothing anybody can do about it", I said you don't make such statements. Even if I win tomorrow, you don't make such statements, leadership is not by anybody's power its only God that crowns people, you get it forcefully, God will be far from you. I told him if you want to continue to work with me, I will not tolerate this. The man left my car, bang my door in Owerri at Control, and walked away. I thought I was going to convince him to approach the election issues with a measure of discipline and responsible manner, and I thought he was going to say, "alright I have heard you am sorry", but he didn't see anything wrong in what he has done, so I let him go and I have no apology. Iju has giving him appointment and he is there.
So he wasn't even a trustworthy supporter to begin with
I thank my God, I don't rely on people, I don't give more than 40% percent trust to people, men must be men. I leant that early in life. It helps me to move on, that is why you can never hear me complain that somebody disappointed me, no way. I give every man his due, believe you to the extent I am able to read you. But I don't rush to disbelieve or distrust people either, it's just that when the truth comes that you cannot be trusted, I don't cry and express regret, I move on, because in the first place, I didn't invest 100percent trust in you.