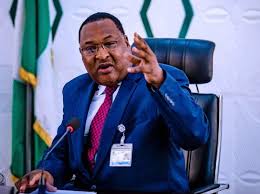 RERUN INTERVIEW
The Executive Secretary of the Nigerian Shippers' Council, Mr. Hassan Bello has said that one of the key ingredients required to retool the nation's maritime and ports growth aftermath of the corona virus is an inclusive maritime financial support, which should be driven by the Central Bank of Nigeria.
He notes that the ongoing pandemic has altered trade globalization and every nation is starting afresh to chart a new direction in commerce and economies, and expressed the hope that Nigeria has everything it requires to also rework its potentials and capacities and restore its lost economic power as major exporter in critical raw materials, restart her lost textiles industry; cash crops and major produce exports, and rebuild her foreign reserves as a catalyst for re-engineering  post COVID-19 economy.
To achieve all of these, he advocates integration of capacities and interests, professionalism amongst service providers, ports system strengthening through risks management and insurance. He notes that with COVID-19, economies worldwide will struggle to reconnect with new realities, and warned that Nigeria cannot afford to be indifferent or waste time.
Excerpt:
Note that this interview was first published in April 2020 by Pinnacle Time and  was considered for republication because of the thrust of its advocacy, egalitarian and key policy outlook towards addressing some of the ills of the port industry; and which we believe has the key to fixing the port and national economy.
 What are your reflections so far on Covid-19?
We have learnt lessons and this is what Shippers' Council together with other agencies should be focused on. Number one is to have automated port or digital port. This means non-physical contact port, where people should not be seen at the port, all transactions should be done online.  Now we have terminals and shipping companies that have attained 70/80 percent digitalization. We want to use them as benchmark. Government is going to issue directives and to give them timeline to make sure that their processes are automated. That means there will be efficiency, and that means some root causes of corruption will be eliminated. That means taking deliberate action to exterminate corruption because there will be transparency. Transparency is curbed when we remove all this outdated methods, and have a modem port system where you don't see anybody but operation is going on.
What would you say is the total outlook of this non physical contact port operation?
We are talking about the digitalization of port processes. The result will be more efficiency, less dwell time for cargo, less turnaround time for ships. This efficiency will also lead to getting more cargo throughput, in and out. We have to also cooperate with the banks, banks make transaction possible, we are going to have a meeting with banks through the Central Bank of Nigeria to make sure that all of them have maritime desks and to integrate their system.  So it will be a small business community system made up of banks, importers, exporters and freight forwarders; and made up of terminal operators and shipping companies agencies, all will be integrated and so we will have more efficiency but then, you see less and less people milling around the ports. Number two we tried and we found out that we could operate the ports 24 hours. That's what our focus should be now; we should operate just like the airports that are working 24 hours. We learnt that during Covid-19, we managed to have a resemblance of that and we had cooperation from the coastal businesses, even now custom service is there all the time at the port. So what that mean is you can bring cargo, you know, and port services available 24/7 to offload the cargo, its work nonstop. Now the MDAs have been on this, the MDAs is ready to work; we need the digitalization, integration and efficiency. We don't want a part of the port system to drag the others back, everybody must be ready to work, freight forwarders must be ready to work; and all the other agencies of government, virtually and otherwise. So if we automate the port nobody will need to be at the port before thousands of containers are moved. So the more we work the more we get throughput and the more efficient our ports become, okay! We are competing with other ports along the West Africa coasts, so efficiency is cardinal. This also even applies to transit cargo for Niger, Chad and northern Cameroon, it's important that our ports operate 24 hours.
It feels very encouraging to hear about the fantastic plans to integrate and automate the ports and eliminate drawbacks to be able to push up efficiency. You said the industry has recorded about 80% compliance, is the compliance solely organized private sector driven or a combined input between the OPS and government.  I know that some critical departments of government operating at the port have not committed fully into this automation dream.
Yes the terminals are part of the automation process. You know customs service is well ahead on the automation, it is the leading government agency. It's right there, you know, I am really impressed with the customs, and what you said is fundamental no matter how digital the other people become if the government agencies are not, you will still have some discrepancies and discrimination. So let's start with them and then we will bring others on board. It is important what you said. When you are informed you don't need to be at the port, it's better for everyone. Why do you need to be at the port, you can do your work online, you know, as long as it is people speaking with one another.  All of us are one government and one system.  Then there is the issue of freight forwarding, freight forwarder must organize and professionalize. They can't just goes to the port and be milling around, swarm of them.  No, there must be a consolidation of freight forwarders. Let them merge, let them come together and form freight forwarding companies instead of individualism. We can no longer continue to have 10 people pursuing one container, they have to organize. So they have to be careful, otherwise, they will be bypassed. There is going to be a great deal of revolutionary economy, post  Covid-19, you know, we need consolidations of freight forwarders, because the freight forwarding  profession if care is not taken is moving toward the informal sector and dragging the industry with it. That is dangerous but I am happy I have been working with freight forwarders. We were together all the time and I have seen the zeal to adapt, they are extremely learned in the way they do things, that's what we want but then there are also issues of touts amongst them.
To professionalize and get integrated as it were?
 Yes get integrated so that they don't have to come in their large numbers over tiny transactions. That way they will be moving millions and tons of cargo out of the port. They should have business addresses; they should be formal, now they are informal. If they are formal, we wouldn't be having the problem of container deposited and all that. Nestle doesn't pay container deposit. Nigerian Brewery will not do that because they are organized. So all this container deposit losses in billions is because the shipping companies appoints agents to manage the containers and all that. Containers are asset which the shipping company must, you know, protect. So we're trying to do two things, to bring insurance into the issue and also to formalize freight forwarding. They are respected, they are well known and acknowledged, you know, so there's no need for you to deposit something before you take container because everybody knows they are consolidated, with warehouses, and well organized.
 There have been clear cases of container deposit abuses, of arbitrary actions taking by multinationals and ocean liners and their agents to cash in on the apparent lack of policy direction in the management of container to rip off Nigerian importers. As the ports economic regulator, what is the Nigeria's Shipper's Council planning to do about this?
Nigerian Shipping Council has been doing advocacy, containers deposits add to the cost of doing business, so that's why we are humble and committed. We are worried about the issue of unclaimed deposits, they have returned the containers but they can't collect it, and it's still there with the shipping company. If the agents or importers say you are going to return the containers within five days there are some issues that are beyond their control, so why should they be charged? So that is why the freight forwarders should come together and form companies, well known companies, formal and professional. But then we are also trying to bring the insurance company into maritime so that there will be apportionment of risk because why should we bear all the risk? The insurance company should say insure this with me and shipping company, and I will return your container. The whole thing is to return the containers. So you freight forwarders pay N2000 per container, the insurance company will have to find a way to bring back that container. We were supposed to have had a meeting with the National Insurance Association, Marine Office Committee. We will also engage the regulator, the National Insurance Commission, NICON, we want them to design policy insurance for transit cargo exiting the ports. Even the trucking, we have to reform the trucking company, there must be tracking companies with maybe a minimum of six fleet. There is so much informality encumbering the system and we are pursuing legislation to address them, like carriage of goods by land, there is a bill which will formalize all this. That's what the investors are looking at and they don't know, investors will not come to your country unless they know how much it will take to transport a container from Port Harcourt to Maiduguri. Until now Shipper's Council have done indicative freight rate and if you are carrying egg from Maiduguri to Kano and there was accident, and all the eggs got broken, they will say 'its God that caused it', no it's not God, it's carelessness and somebody has to pay. We are so informal and that's what we want that bill to take care of. Every movement must be insured, there must be a contract between the owner of the cargo and the transporter of that cargo so that if there are consequences there will be responsibilities. We need to formalize our transport system; it cannot continue to be informal.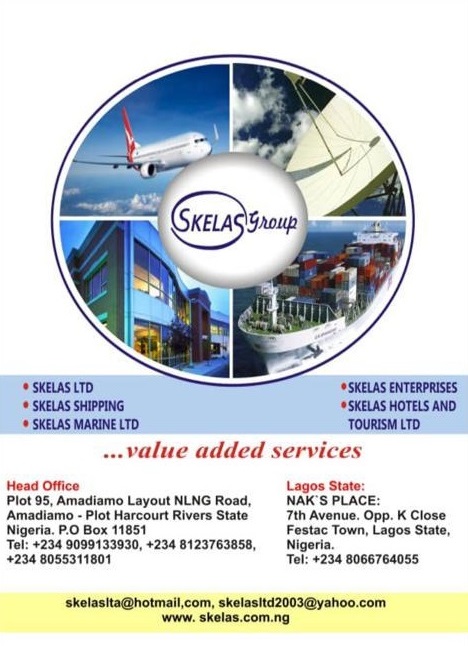 There is so much talk about the economic dislocation caused by the Covid-19, despite being aware of the fact that this thing was ragging from country to country and could come our way? Nigeria had advantage of about a full month before the pandemic got into our coast, why did we allow it to take us unaware? What was our level of preparation to deal with it?
Covid-19 was a natural disaster, and you can't be too prepared for it. It's of general application, you cannot isolate a country. While some got prepared, some got serious more than others. Nigeria is a serious country; this pandemic has shown that, I mean by how much has been done. Look at our numbers, for us you know ten thousand is somewhat compared to other countries, you can see how well we have done, or we are doing. But let me come back to what I know is the economic issues, the dislocation, disruption, we have to affect the society. That's why the ports were open, so that we have medicine, that we have food, we have raw materials for our industries, so that the economy will not crash. The economy without the port means everything has come to a halt. So I think Nigeria was prepared for the dicey situation. It's not like predicting a football match where you say it will be here next week. We really have tried and now Nigeria has no shortages even up till now. At least when you go to the pharmaceutical companies, the shelves are still full. We still have food. I mean look at the economy, if we had not embarked on rice production, it would have been bad.  Taiwan is not selling rice, it's catering for its own people, and Vietnam and Singapore and all the other rice producers are not exporting rice now. They are keeping it for their own people. So we have to get more prepared now for eventualities like this, you know if Nigeria has been much more organized  we would have been alternative to China for raw materials, and that is what we are focusing again on; export. We can't have even import, import will dwindle because our income, our earnings have reduced so what can we buy, are we going to buy a phone? Is it for your girlfriend you're going to buy a N300, 000 worth of phone? So people will not buy telephone or these large TV so the purchasing power has made sure of that, and then also for Nigeria to have favorable trade balance. That is the reserve for us to finance import. We don't have it, the oil market has crashed. So import and purchasing power has reduced, our life style has reduced so our consumer confidence has reduced. The production has been disrupted in China by 70 percent, 60 percent of our imports are from China. China is still restarting their economy.
Talking about the glut in the crude market and lean foreign reserve, one can say that the maritime which is the next economic gateway is a likely next hit. What is the Nigerian Shippers' Council doing to boost our traditional exports?
What I told you is about means to make our ports efficient, to make our virtual-ports operate efficiently and then have regime for export. It's the export that will make the maritime be a substitute for oil. You know, even the import economy, the ports has provided for Nigeria all the billions or trillions of dollars Nigeria Customs makes, where is it from? Most of it is from the maritime. Customs is not separate from the maritime industry, but now is our time to reinvigorate the export regime. We are so careless that we have become import dependent economy, we should change that. Even our ports are not configured correctly; the 800 trucks lying there to get into the port for over 3 months, Shippers Council as you know have been waging real fight to see that exports are going. We have started today, the trucks are going into the terminal, we met throughout the weekend and every day we are at it, we can't just joke with exports, or we will perish. There must be export and so we have to protect it, Export Promotion Council, Central Bank, Nigeria's Ports Authority, Nigerian Shippers' Council, Ministry of Agriculture and Ministry of Finance have to come and sit down and review the whole export process. What are the bureaucracies that will make perishable exports to be degraded before they access the ports? We have to identify these and deal with them. Even in other countries, you have soldiers escorting exports. Then access to finance, exporters and farmers must have direct access and the Central Bank must actually be commended for what they are doing, direct intervention into the economy, we don't have an elitist Central Bank now we have a practical Central Bank. They will take one product rise now…let them take other product that will have the comparative advantage on them, we are second in sesame export, we have cocoa, we can grow coffee, we have ginger, but there should be a chain, it's not raw things that we take, we must also have processed goods that we can export, so Nigeria will not have a problem.
Two major misunderstanding threatened the response measures put in place to keep the port economy running in the course of this pandemic and the national lockdown that followed, political differences between the various tiers of governance, and terminal operators and others who apparently weren't  on the same page with the Nigerians Shippers Council on the issue of directives on demurrage waivers. How were these challenges resolved?
Well you know we are dealing with our ministries and making input, the fact that the port was open was also a direct intervention by Nigerians Shippers' Council…'don't close your ports'. We advocated that the ports must open and operate within the circumstances we find ourselves. As I have told you, raw materials, food, medicine, even to fight the pandemic, we need the ports to get some things. That's number one and then, palliatives must be given to encourage shippers and that's why we said demurrage should be suspended during the lockdown, we never had any issues with that. We have to commend the shipping companies who agreed with what we said. They agreed with our directives, initially they had to adjust their system and now everything is been made. But the most challenging thing we had was in Rivers State when the workers were not allowed into the ports because the ports were not seen as an essential service and that was also dangerous, because if you go farther, it has repercussions on contracts and so many other things, a ship came carrying fish and stayed on the anchorage for 5, 7 days, you have to offload. But the River State government denied them. So the workers because of the treatments said they are not going to offload and we had to intervene for them to offload, we intervened with the state government to allow port workers free access to port. But another challenge is the interstate boundaries; some lock their states. Of course adjust passing but don't lock your states against cargo. When they say open the ports it means cargo must move. So we have been able to sort these things out.  Our ministry is intervening from all what we have said through the presidential task force on Covid-19.
One interesting factor in the whole Covid-19 saga is the observation that perhaps, for the first time in Nigeria, all the critical agencies of government closed rank and there was smooth cooperation and coordination that ensured the port economy was running. How did this happen, some persons are saying Hassan Bello is the defining factor?
I am not the defining factor. The defining factor is the task team and it is being headed by the registrar of the CRFFN, he is the chairman, but we have representatives from the customs which is very important and the navy, from the dock workers union; NIMASA, NPA, Port Consultative Council, and the freight forwarders and that's what make it beautiful, you know we meet here almost every week and look at the situation, and from there we look at what will the port look like after this Covid-19 and so I commend everybody in there, the MD of NPA has been extremely alive. The authority issued waiver of rent which others followed, the DG of NIMASA is there, even he is the one who started issuing the directives on valuing of ships and the protocols, he issued a marine notice which was commended by the IMO because of his clarity, so Nigeria set the pace actually, it was a beautiful thing, but not because of Hassan Bello, am only a member.
Between February and now much has happened, how would you access the level of cooperation and compliance by port users, service providers, port operators and seafarers?
The level of compliance has been good, we could do better, and it's a process and we are bent on that process. The compliance is to make our ports more efficient and that's what all shippers' council is about and other modes of transportation. You see we work with the railway, railway now are going to evacuate cargo. We met with railway and say: where is your term of reference, where is your standard operating procedures? So the terminals and rails are going to work. We work with the truckers, and by the way truckers reduce their charges during the lockdown by 30 percent because of our insistence and we worked here. So we are seeing compliance and integration as you said, and it is a very beautiful thing. I wish there could be more, and that is what we should work with, direction. There should be some synergy you know cooperation between agencies.  With that you will notice that we will have a seamless transport system.
Analysts believe that there have been some economic losses since the lock down, as the chief port economic regulator, can you quantify these losses?
It's early to begin to do that, but I know there are losses, losses by even the shippers who cannot bring their cargo out of the ports because some markets are closed. The big electronic market in Alaba, Nnewi, Dugbe are closed, so there have been some losses. The government is also loosing because it cannot get the revenue it has earmarked. There are losses but it is more of a general loss if you like.
Okay given your regulatory permutations and your forecast as it were, when is our economy most likely going to get out of the wood?
It's not going to be a V-curve, it's not a V-curve that crude price will go up. The economy will struggle, the economy will crawl and the economy will have to look at what you have done internally, you have to look inward. The issue of globalization has been dented; our strength should be within ourselves, what can Nigeria do? We have to emphasize on three things; infrastructure more than ever, that means electricity. That means roads, rails, logistics, and manufacturing.  That's what we should be doing to build our economy back.
 Two weeks ago the Nigeria and Shippers' Council released the report of the review of the first phase of the Covid-19 response framework. What is the next phase going to look like?
The next phase is to work more with the agencies and the government, and the private sector. We have already talked with Manufacturers Association of Nigeria, MAN, we had a meeting here, Lagos Chamber of Commerce and the Shipping Association and NACCIMA, all of them were here and everybody came in and discussed how we can improve.  So people need to come together, we have issued the report of our meeting now to the minister of transportation and we have demanded that certain things be done, like setting up a committee that will look at it, it's going to comprise of export promotion NPA, Nigeria's Snipers Council, Ministry of Finance,  Ministry of Agriculture. So we have done that, we can clean up our logistics, the airports that could export commodities for example have to have cooling refrigerated  warehouses. So we clean up our system and make it more efficient, we don't need to run to Australia, we have the conditions to build our unique capacity, we can do so working with the Central Bank. We are calling on the Central Bank to pan their attention into the maritime and see how they can provide palliatives or make direct interventions like they've done in other industries and then we will tell the oil sector to go take a rest. We will make sure the maritime industry is a good substitute or even better than the oil sector.